Is more actually better? A look into the health effects of ultra endurance sports.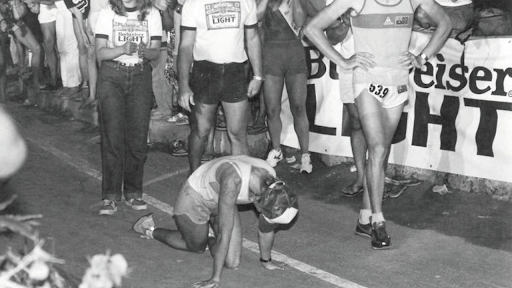 In 1982 Julie Moss competed in the Ironman Triathlon in Kona Hawaii. At that time her motivation was simple, to compete in order to conduct valuable research for her exercise physiology thesis. This all changed as she took the lead of the race. Suddenly she felt glory in her grasp, and she didn't want to let go. With 2 miles to the finish she pushed forward, but her mind was stronger than her body, she fell to the ground, refusing to give up as she was passed for first tantalizingly close to the finish.
     The ensuing scene, and her crawl towards the finish line, was broadcast for the world to see, inspiring many others to compete in the Ironman, and popularizing the sport which now draws over a million competitors. 
     In the following years Ironman has used this footage for marketing purposes, spliced together with other scenes of the race's brutality. In one airing of the championship race celebrating the 30th anniversary of the competition the narrator proudly announces,"The Ironman is thirty and they still come back to take what it gives,"as various montaged clips play. 
     In these clips, among other things, we see 6 time champion Natascha Badmann struggling in pain as she attempts to bike through a broken collarbone sustained during the race, a cyclist sprawled unconscious on the side of the highway, and most jarring of all 8 time champion Paula Newby-Frasier laying on the ground with a medical team around her saying "I think im gonna die."
With such an emphasis on physical challenge and brutality, the question must be asked, is this safe? For many this question is simple, afterall, they can swim 2.4 miles, bike 112 miles, and run a marathon back to back to back, they must be healthy, right? But some medical professionals have started to raise concerns, particularly in the area of heart health.
     A prime example of this is Tim O'Donell. O'Donnel was the silver medalist at the 2019 Ironman World Championships, a World Champion 2009, and a survivor of a heart attack while competing in the Challenge Miami triathlon.
     O'donnell's case seemed to support the findings of a 2016 paper in the British Columbia Medical Journal, which studied the health effects of endurance exercise and found large training volumes required to complete ultra-endurance events may cause damage to the heart. "The effects of long-term endurance exercise are still unclear; however, a growing body of data suggests such exercise may be harmful," says Cardiologist Andrea Lee.
     Emergency physician Jeff Sankoff, offered a different hypothesis on the main causes of mortality within triathlon, pointing to inexperience and swim conditions as the main culprits. Sankoff argues that because the majority of deaths occurred in shorter distance races and almost exclusively in the swim section, the swim itself is the main risk factor. To explain this Sankoff pointed to the stresses that cold water and chaotic swim conditions can have on adrenaline and other hormones, all of which can cause an emergency event, especially in inexperienced individuals.
     Sankoff's theory also has real world merits, as detailed in a 2021 article by the Journal of Ultrasonography, which examined the case of a 48 year old female triathlete who was removed from the swim by emergency services due to difficulties breathing. The journal found the cause was a pulmonary oedema, a condition in which fluid from blood vessels in the body fills the lungs, making it difficult to breathe. Why this happens is not fully understood, but is thought to be caused by cold water stress, which prevents the left ventricle of the heart from properly functioning.
     Sankoff still supports competing in triathlons regardless of some of the dangers. "The health and emotional benefits of swimming, cycling, and running continue to far outweigh the potential risk of sudden, unexpected death," he said.
---
Works Cited 
Andrea K.Y. Lee, et al. "Andrea K.Y. Lee, MD, Barbara N. Morrison, BHK, Saul Isserow, Mbbch, Brett Heilbron, MB ChB, Andrew D. Krahn, MD, FRCPC, FCCS. the Impact of Excessive Endurance Exercise on the Heart. BCMJ, Vol. 58, No. 4, May, 2016, Page(S) 203-209 – Clinical Articles." –, https://bcmj.org/articles/impact-excessive-endurance-exercise-heart. 
Elizabeth Pitts West Hawaii Today [email protected] | Tuesday, March 31. "Defining Moment: Julie Moss Puts Ironman on the Map with Dramatic 1982 Second-Place Finish – Hawaii Tribune." Herald, 8 Apr. 2020, https://www.hawaiitribune-herald.com/2020/03/31/sports/defining-moment-julie-moss-puts-ironman-on-the-map-with-dramatic-1982-second-place-finish/. 
Kragen, Pam. "Ironman Vet Julie Moss Recounts Her 1982 'Crawl of Fame' in New Memoir." Tribune, San Diego Union-Tribune, 2 Oct. 2018, https://www.sandiegouniontribune.com/communities/north-county/sd-no-julie-moss-20181002-story.html. 
Lacke, Susan. "Tim O'Donnell Reveals He Suffered Heart Attack during Challenge Miami." Triathlete, 13 Aug. 2021, https://www.triathlete.com/culture/news/tim-odonnell-reveals-he-suffered-heart-attack-during-challenge-miami/. 
Lawton, Josh. "Athlete Deaths in Triathlon and How to Prevent Them." TrainingPeaks, 2 Dec. 2022, https://www.trainingpeaks.com/coach-blog/athlete-deaths-in-triathlon-and-how-to-prevent-them/#:~:text=The%20average%20age%20of%20the,occurred%20during%20post%2Drace%20recovery. 
Sobieszek A, Konopka M, Cacko M, Kuch M, Braksator W. Immersion pulmonary oedema in a triathlete – a diagnostic challenge in sports cardiology. J Ultrason. 2021 Aug 16;21(86):e252-e257. doi: 10.15557/JoU.2021.0041. Epub 2021 Sep 9. PMID: 34540282; PMCID: PMC8439123.
YouTube, YouTube, 24 Feb. 2010, https://www.youtube.com/watch?v=6EXxgCeYkyU. Accessed 3 Mar. 2023.