Students participate in mock elections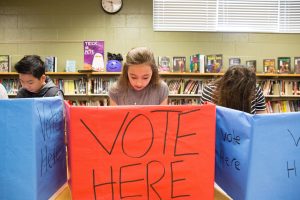 On Election Day, Nov.8, two voting stands set up in both the Satellite and Main Cafeteria, hosted mock elections organized by Rho Kappa. Students could feel  what it would be like to vote in the real world. 
During students' lunch periods they were given the opportunity to vote as if they were at an official polling site. Students voted for who they believe should be the governor, senator for the district, and much more. 
Overall, students said they either did not plan on voting, or did not know that it was occurring, including senior Allen Reome, who said he  "didn't plan on voting," but said he did once he saw the table set up. "I just saw the table set up and decided to," he said.  
He later went on to say that he would not have voted if it were not for everybody else doing so, primarily his friends. Many students said they  believed the Mock Election only pertained to seniors, so they did make an attempt at voting. 
Michael Barkavich, junior, was one of these people, who said that he "thought the elections were only for seniors to vote in." 
Junior, Matthew Parker, knew that the election was occurring, but he "saw zero reason to participate," so he didn't. He also stated many of his peers 'followed the crowd' to the voting table, and he himself thought about it, but the bell had rung before he could. 
On the complete polar opposite, some students said they were aware and educated about the ballot. Senior Quintin Ritter said that he "already knew who he was voting for,"and his political opinions were "largely dictated by his family's political views."
This seems to not be a priority among the student body as a whole, as many of the students seemed to have no idea that there was a mock election taking place. It appears that many students at Shenendehowa are not aware of federal and state politics.