What is a Dupe?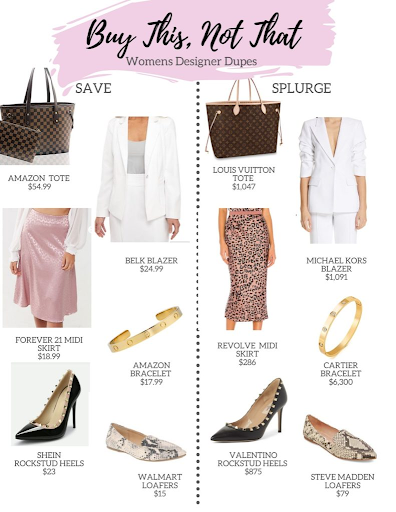 Have you ever wanted something but it was too expensive? Now the world is finding dupes. Dupe. Funny word isn't it? Well what if the word "dupe," was sweeping the internet and becoming very popular.
What does "dupe," even mean? The trendsetting word "dupe," is used to show the cheaper version of a high end product. For example a $200 workout set from Lululemon is nice but it can be pricey so the country is shifting towards the Lululemon "dupe," where at Target, the same set can be found from $20-$40 instead.
With social media and influencers having everyday people in chokehold with the very expensive products they use and promote such as Charlotte Tilbury makeup, Chanel bags, Nike Jordans, Apple headphones, Lululemon and so much more. Social media made it their mission to find the cheaper version of these products that have the same quality so that everyday people can afford them. Dupes can be anything from clothes, to makeup to shoes to jewelry and much more.
"Dupes are my favorite things in the whole world…," said Hannah Compa, Senior at Shenendehowa High School. "As a student-athlete, I don't have time to work and get money, so going to Target and getting the cheaper version of what I see on Tiktok is a relief."
Grace Gibbs, a junior at Shenendehowa High school also said, "I love dupes so much, my whole makeup collection is exactly what influencers use but I got it at CVS for so much cheaper." "…Charlotte Tilbury charges like $42 for blush so I got an E.L.F blush wand for $9 and it does the same thing."
Scrolling through Tiktok or even Instagram and Facebook, viewers mostly shop at Shein (website), Amazon (website), Target (store/online), for their favorite dupes. Tiktok users such as @maddiepeed @alixearle @lj.calcagno and so many more offer their "favorite," dupes on their account. You can either find dupes on your "For You Page," which is the explore page for TikTok or you actually look up the word "Dupe" in your search bar and so many ideas will come up.
The picture above shows some of the makeup dupes mentioned above. The left side is the expensive side where the cheapest thing is $30 and ranges to $100, just for one product. However the right side can range from $3 to $14 and can be found at Target or your local drugstore.
The picture above shows some of the designer brands you can get for a much more affordable price.