How to pick the best college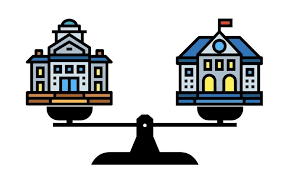 As the year comes to an end, juniors will be entering their last year of high school and be asked the most common question, "Where are you going to college?". The college decision process can be very overwhelming and scary. "I feel completely lost," said current junior, Cara Bevevino. "There's so many schools it's impossible not to get overwhelmed."
Although the process of picking a college is stressful, there are many resources, tips, and tricks to help students through the process. Seniors advised juniors to use Naviance, speak with their counselors early and often, and go visit a college as soon as you get accepted.
Lauren Gonzalez, a senior who is committed to Clemson University, said it's important to weigh the positives and negatives of each choice. "You definitely need to research and create a pros and cons list for every school. This helps narrow down what you want and need for the college you will commit to," said Gonzalez. Gonzalez emphasized the importance of deciding early in the decision process the size, location, prestige, cost, and especially the major you are looking to study. Looking for these important key concepts helped her soon realize that Clemson was the right choice for her.
Senior, Christina Holovashchenko, advised juniors to use Naviance. "Use Naviance as your resource. This helped me a lot in navigating and narrowing down my top choices," Holovashchenko said. "Naviance also allowed me to see the school's stats and find information."
Every student has access to Naviance and can use the "Supermatch" tool to pick different criteria they want in a school, such as greek life, size, and more. After picking their options, Naviance will display colleges that match student's choices and also show how the school matches their academic statistics. Naviance will help seniors compare schools and make a list of colleges to visit and apply to.
Another great resource available to all students is their counselors. Counselors can help narrow down choices and give advice. Counselor Taylor Meuller said students should be prepared to visit colleges after they get accepted. "The top advice I would give to seniors after they get accepted into colleges but still don't know which one to pick is go visit all of the campuses," Meuller said. "Look at the dorms since that's where you are living, tour the dining halls and determine if you like the food options. Visiting a college helps you get a feel of the entire campus." She also recommended asking questions to other students who go to the college, about what they like and don't like.
"I think there's a hype around a lot of colleges, especially prestigious private ones, but just because a lot of people like those schools doesn't mean you automatically will," Meuller said.